These last few days have consisted of training at Java Haute (I can make 3 of my 5 favorite drinks woo!), being a couch potato,
and hanging out with friends.
Now we start looking towards the weekend.
And weekends in December are always busy.
Today I'm concentrating on getting things around the house up to busy-weekend-par (because I know after all this running around to come I won't want to deal with anything here).
Adam went to go see the Hobbit last night with a group of the high school guys.
I wanted to go sooooooo bad but it was a guy's night.
I read the book this summer and it's one of those stories that would make a wonderful bedtime story for little ones.
It's just as fanciful and adventurous as LOTR but is really child friendly.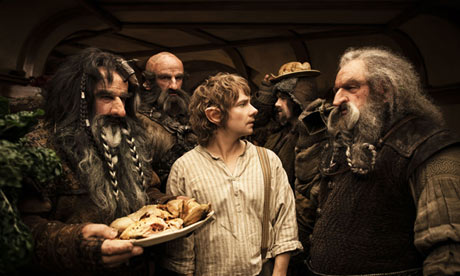 Anywhoooo...
Gosh.
I just am feeling really foggy right now and am not writing much of anything interesting.
I woke up with a sore throat and am wondering if I'm getting sick.
Hope not.
Our first Christmas married was awful because we were both sick.
It started for me in the early morning of Christmas eve.
I got sick pretty much every hour, had a headache, had a fever, everything.
Then Adam just had a fever and severe aches by noon.
Since he works at our church, he had a role in the Christmas eve service at church and went.
Brave man.
So that was our worst Christmas so far.
Our first.
Ha
:)
Well, I hope this sore throat goes away.
I'm going to go make some tea and make some lists of things that need to get done for this weekend.
Wish me luck.